Undergraduate Research Symposium Awards!
MCAC Students win awards at UMBC's Research Symposium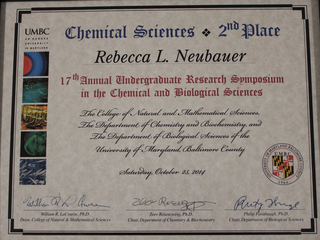 On October 25th, the College of Natural and Mathematical Sciences at UMBC held the 17th annual Undergraduate Research Symposium, allowing undergraduate students to present research from biology, biochemistry, and chemistry disciplines. 
Two students from the MCAC presented research at this symposium, and both won awards.
Rebecca Neubauer, a senior Biochemistry and Chemistry major at UMBC, presented research on "Detection of Saccharides in Fresh Water Using HPAEC-PAD" and won 2nd place in her discipline of the Chemical Sciences judging.
Maggie LaCourse, a sophomore at UMBC, presented "Improved Methodology for Ion Profiling in Aquarium Water" and also won 2nd place in her discipline for the chemical sciences.
For more details about our progress and to see our research, visit our website at mcac.umbc.edu . 
Stay tuned to see our progress!